Regular price
$30.00 USD
Sale price
$15.00 USD
Unit price
per
SALE
Sold out
New 🔥 Item!
This is your Artist Bible. This is the way you love to create. The way your mind thinks as an artist. The techniques you believe in. This is your truth. Your belief system. This is the beautiful thing about being an artist. Once you know the rules, you can break the rules. There is no wrong or right way. This is your way. So think outside the box. Create fully with your body, soul and mind. Be full of inspiration so you can inspire someone else to live their true authentic self because when you do, that is when the magic happens. 
This hardcover book is the perfect size for artists to keep handy notes, inspiration and ideas. The stylish white and gold design of this book, along with the interior illustrations and diagrams, make it easy to reference often and provides useful tips.
Features Larisa's zones for how to section, goal pyramid chart for goal setting and headsheets to get inspired & develop techniques.
Comes with Larisa Love pen.
View full details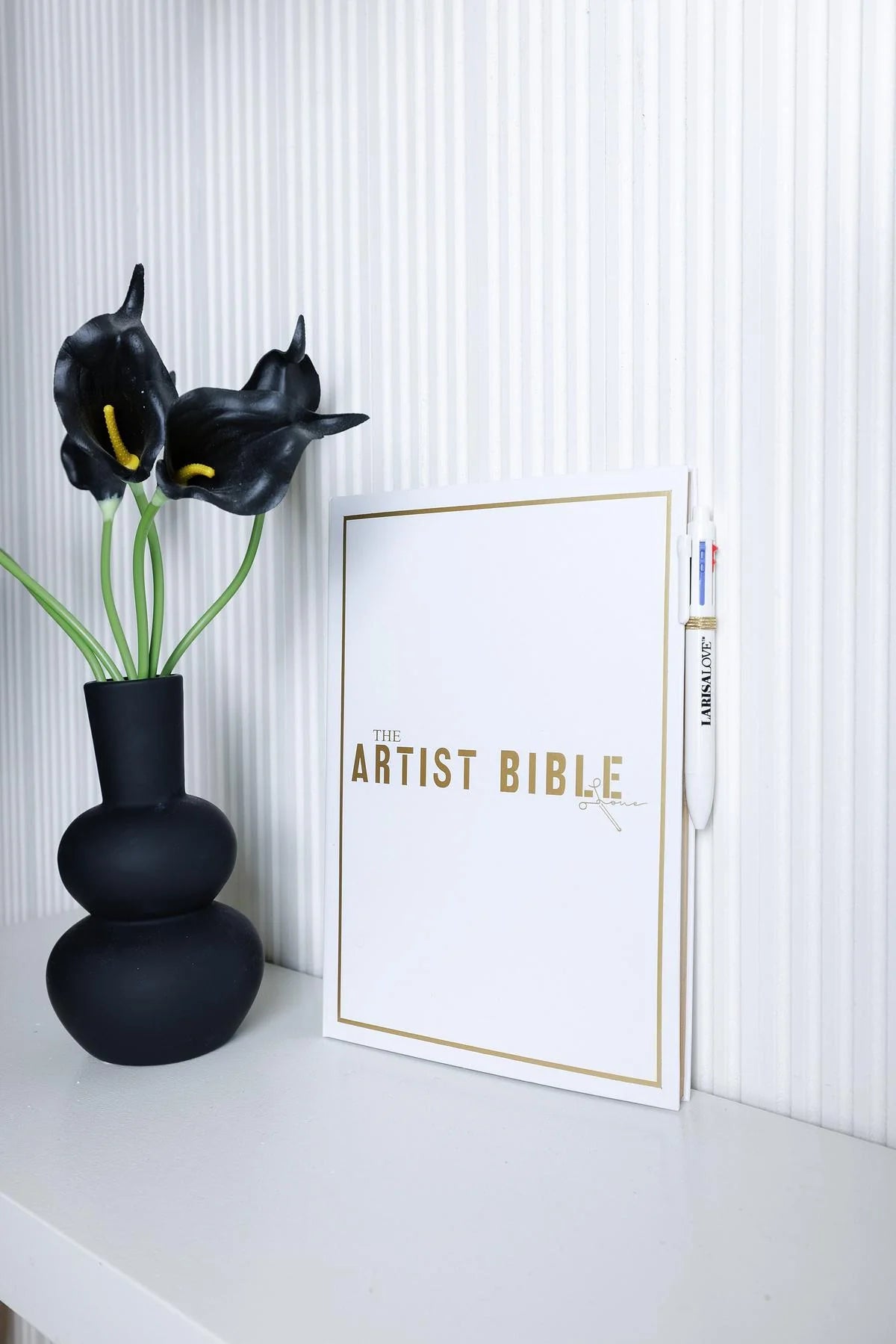 ALL SALES ARE FINAL
Please note all products and tour tickets are final sale.
INTERNATIONAL SHIPPING
We ship worldwide! Due to Covid-19, please expect longer than normal shipping times. There could also be shipping delays due to weather and/or carrier availability.
Proudly wear your passion!
Larisa Love is an Artist, Educator, Mentor, Salon Owner and Brand Ambassador for Joico.
Larisa Love's passion for hair is undeniable. She strives to be the best artist she can be by continuing to push her creativity to another level. At the same time, Love encourages fellow hair artists to do what they love through education and style.
"My passion and love for hair fuels even stronger as each year goes by. I am so blessed to be able to travel the world teaching my hair color techniques and showcasing my art to the world."
Read More